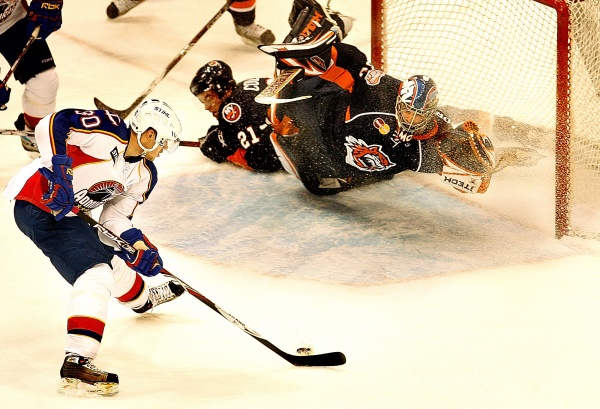 Goaltender Mike Morrison
(Photo by Bill Manley)
The River Rats have
picked
up
veteran netminder Mike Morrison on a two-way AHL/ECHL deal.
With seven professional seasons under his belt, Morrison, a 30-year-old native of Medford, Massachusetts, will bring experience and depth in net.
Morrison will start the 2009-10 season with Albany's affiliate in the ECHL, the Florida Everblades. He may become Justin Peters' back-up should rookie Mike Murphy need additional conditioning. Morrison will also be prepared to step up in the event of an injury.
The 6-foot-3 netminder has spent most of his days as a back-up.
Morrison began his professional career in 2002 after finishing four years at the University of Maine. He served as the Black Bears back-up until his senior year, when he played 30 games and registered a 2.19 GAA and a .921 save percentage.
Morrison was drafted by the Edmonton Oilers in the seventh round in 1998. He has played professional hockey in every corner of North America, from Ottawa, to Edmonton, to Phoenix, to South Carolina. But despite playing at a variety of levels, Morrison has had trouble finding a job as a go-to starter.
Morrison has notched 86 AHL games and another 77 in the ECHL. He saw time in 29 NHL contests with the Oilers, Senators and Coyotes. Last season, Morrison played in Austria and Sweden.
Morrison spent 2007-08 with the Bridgeport Sound Tigers, playing a career high 43 games. He finished the season with five shut outs, a GAA of 2.80 and a .911 save percentage.
In 2005-06, Morrison played in 21 games with the Edmonton Oilers, ending his longest NHL stint with a record of 10 wins, 4 losses and 2 ties. He finished with a 2.83 GAA and a .884 SV%.
"He may never be a No. 1 in the NHL," said Oilers scout
Chris McCarthy
, "but I wouldn't count him out to be a backup someday with someone. He's got heart, and he's a competitor."
"He's got good size, and moves well for a big guy," McCarthy said of Morrison. "He has good quickness, and challenges shooters, but he needs work with controlling rebounds, and staying focused with the task at hand, but he's learning that now and is giving it his best effort to be a good pro."
"(Albany) jumped on (Morrison) right away," said Malcolm Cameron, coach of the Florida Everblades, to the
Naples Daily News
. "They wanted to have a good goaltender in the system, and with the experience that Mike has it works really well for them. ... If you're going to pull a goaltender up from the ECHL, it helps to have a good veteran in the organization."
Now that Morrison has signed a two-way deal with Albany, he his set to start next season with the Florida Everblades. According to the Blades'
press release
, he will attend training camp in Albany and then be assigned to the ECHL.